Hello, crafty friends!  Now that Thanksgiving is behind us, it's officially safe to go into full-blown holiday mode.  If you're in the market for an eye-catching decoration, a unique gift idea, or just a fun project, I've got a tutorial you might enjoy.  Keep reading to learn how to make your own snow globes!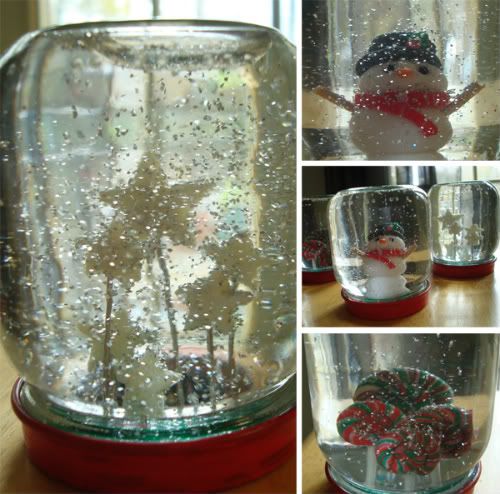 Here are the supplies you'll need:
★ Clockwise from top left ★
-Recycled glass jars, cleaned thoroughly with labels removed. Mine are baby food jars.
-Glitter in your choice of colors (I used silver and white).
-Distilled water. You can buy this in jugs or make it by boiling water and allowing it to cool.
-Glycerin, which you can find at drugstores or the pharmacy section of certain grocery stores. This little bottle was $2.30 and I found it near the first aid section of the store. (Clear liquid dish soap may be substituted if you can't find glycerin).
-Sandpaper
-Small holiday toys or decorations. Being the clay-loving girl I am, I sculpted mine from polymer clay. But anything cute and festive will work.
-Waterproof epoxy glue such as E-6000.
-Optional: Paint for the lids of your jars. Acrylic or spray paint will work.
★ If you'd like to change the color of your lid, give the lid a light sanding and coat with acrylics or spray paint. Only the edges will show since the jar will be upside down, so it doesn't have to be perfect. Allow paint to dry completely.
★ Sand the inside of the lid and use epoxy glue to attach figurines and decorations. Apply glue liberally to make sure it remains intact when it's submerged in liquid. Allow glue to dry at least 12 hours.
★ Once the glue is dry, sprinkle glitter into the jars. Use enough to attain a "snow" effect, but don't go overboard or you'll have a clouded mess. Fill the jars almost completely to the top with distilled water. Add 1 teaspoon of glycerin or clear liquid dish soap.  If your jar is larger than a baby food jar, adjust the amount of glycerin or soap accordingly.
★ Holding the decorations upside down, lower the lid gently into the jars. You will want to hold them over the sink during this step because they should overflow. It's good though- it means that your air bubble won't be very large. Screw on the lid as tightly as possible. You may even wish to add a layer of epoxy glue to the inner rim of the lid to permanently seal your snow globe.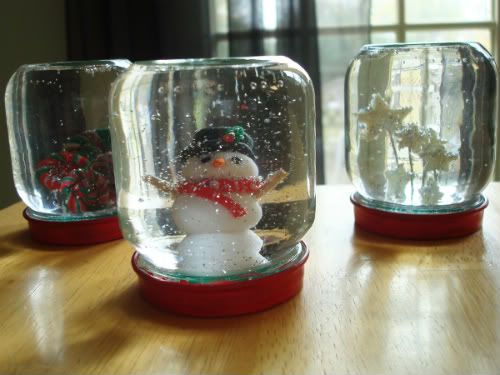 ★ Give your snow globe a few shakes to stir the liquid.  Watch the snow fall and enjoy your festive new decoration.  Happy crafting!